The BMW M4 Competition is fast, but after a day with it in Munich, we discover it's got a lot more talent hiding behind that massive grille.
On the Sunday before the 2023 Munich Mobility show, BMW handed me the keys to one of its press cars for a drive, so rather than walk around taking in the sights of the city, my plan changed to seeing the countryside from behind the windscreen of the second-generation M4 Competition Coupé! How much would I see, though, I wasn't sure; the M4 is fast. Really fast.
BMW M4 Competition: Powertrain and performance
This M4 gets a new 3.0-litre twin-turbo, inline-six petrol motor (code: S58) that produces 510hp: appreciably more than the previous car's 450hp S55. Torque is also up – 650Nm from 550Nm. Fire it up and you know there's muscle under that hood, thanks to a nice and sporty growl. It's not an aural symphony though; you expect more. So the exhaust amplification button stayed on for my entire drive, even when easing it out of the BMW Media Centre garage. Can't blame me, right?
The new S58 engine makes 510hp; 60hp more than old S55.
Amped-up exhaust sound aside, driving it out was a pretty laidback affair, as was driving it through the little traffic and few traffic lights before we hit the expressway. The engine really is the superstar of this car. On one hand, it's docile and civil, and yet, engage one of the sportier drive modes, and it's wild. What I particularly like is the way power comes in. It's hard and fast, not punchy in the mid-range; just a massively strong push all through the rev range. On the unrestricted stretch of the German autobahn, I'm at ridiculously high triple-digit speeds in no time, and it's only the sight of other cars sharing the same road that makes me back off. The car? It simply wants to motor on faster still. 0-100kph comes up in a claimed 3.5sec, and mash your foot down and you'll be in no doubt of that claim.
Throttle response is also very quick, as is the gearbox, which is also smooth in its operation, due to the switch from a 7-speed DCT to an 8-speed torque-converter. Even in Sport Plus, shifts don't have a hard edge, and while I was fine with that, some drivers will miss that aggressive feel, which does add to the thrill.
BMW M4 Competition: Ride and handling
The way the M4 drives is very customisable via the drive modes, and specific setups can be called up via two customisable and cool red hotkeys right behind the steering wheel. Engine, transmission, steering, dampers, brakes and ESC can all be tweaked, and there's even a drift score analyser that will rate your drifts based on length, angle of rotation, speed and more. The car we have has the xDrive all-wheel-drive setup, but it can drift, says BMW. Given that we were on public roads, I didn't try this, but it's an indication of just how much focus BMW has put into making this car fun.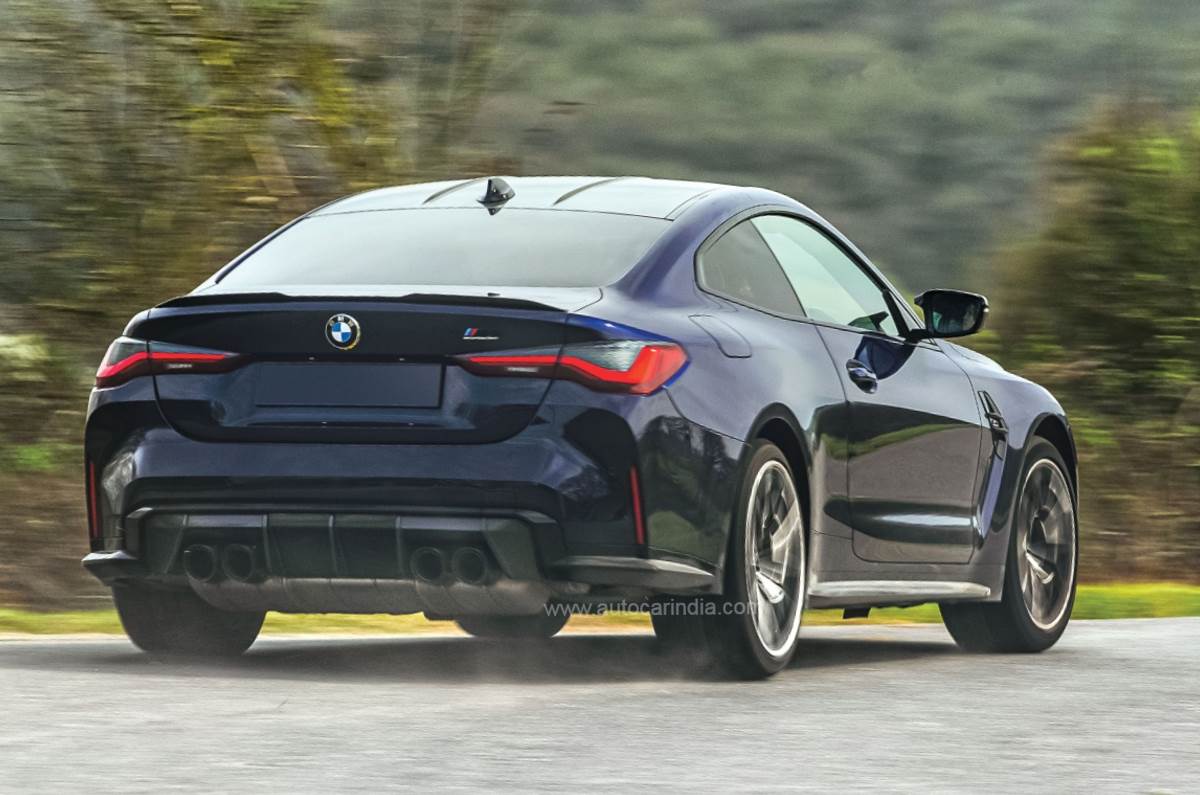 There's grip aplenty and body roll is virtually nil.
It's fun around corners even if the wheels don't break traction, and on a country road that leads us to a lovely riverside café – our planned lunch stop – the M4's chassis balance really shines. There's plenty of grip and no body roll going around corners quickly; you can turn in with remarkable precision, knowing exactly what the tyres and suspension are doing. BMW says the AWD is rear biased, which it is, but it does feel like it engages the front axle quite often and not just for off-the-line getaways. There's a remarkable neutral grip through fast corners but, of course, on a racetrack you can switch to 2WD with the ESC off and get the tail out. The ride quality over a few broken edges is firm but we'll only know how pliant the suspension is when we drive it here over our rough and tumble.
BMW M4 Competition: Exterior design
I wouldn't call the M4 an attractive car. Apart from the large grille, the lines too seem in discordance with each other; the front ones are sharp whereas towards the rear they go soft, and the rear itself appears quite bulky. But it has presence: rather than a handsome Captain America, the M4 is more like the Hulk. Its large and gargantuan grille, massive size – and assuming you choose brighter paintwork – all scream for attention. Being a Sunday, the riverside café we've arrived at has plenty of family patrons and a lot of the kids are pretty excited looking at the M4.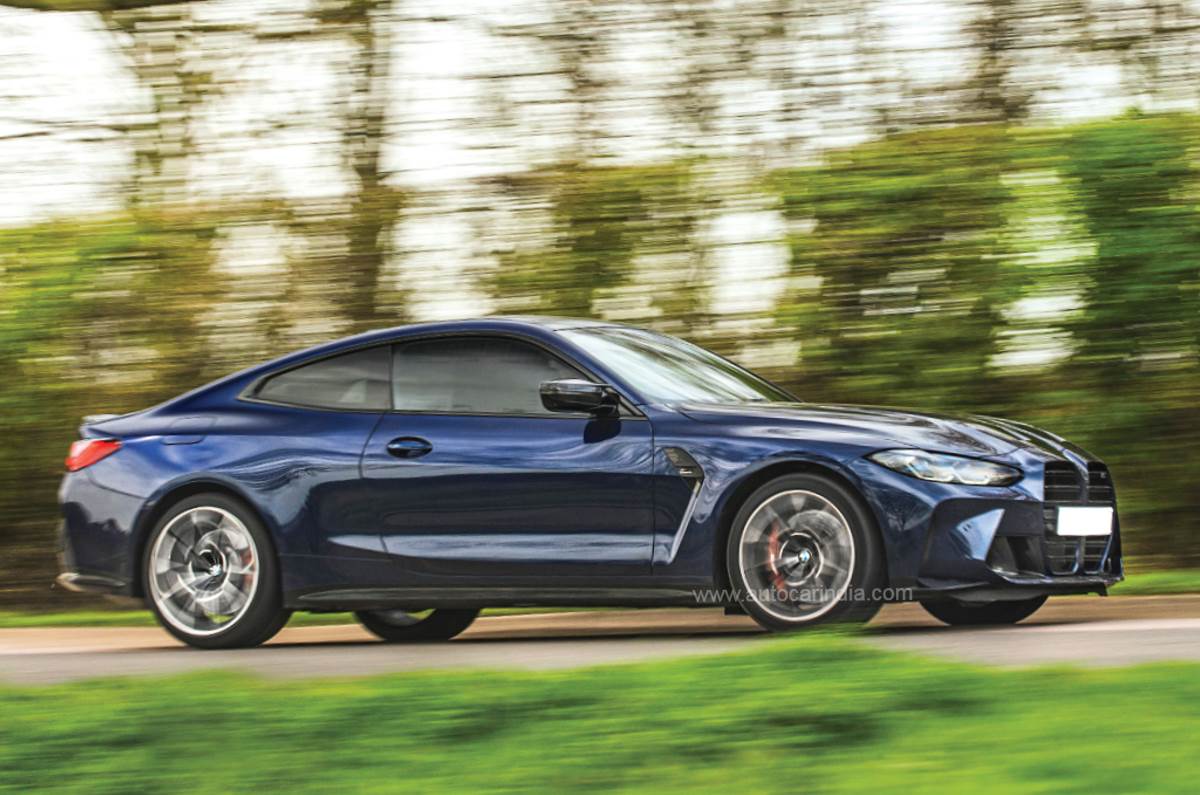 The new torque converter gearbox is quick and smooth, but some will miss the old DCT's aggressive shifts.
We got a lot of stares, even from an older gentleman parking his sedan next to it. But he's not impressed at all; I suspect it had less to do with the M4's appearance, and more with its huge bulk, which took up a chaunk of his parking space too. Yes, at 4,794mm in length, this 2-door coupé is a big car and, in fact, is only about 30mm shorter than the long-wheelbase 3 Series sedan. That at least means it's roomy for a 2-door. The rear seats are okay for adults for short durations, but let's just say, in our group of journos, no one was in a hurry to sit there; not with a 7 Series also part of the convoy.
BMW M4 Competition: Interior and features
The M4 is comfortable up front though. Our test car came with carbon-fibre-backed seats, which reduce the overall weight and give you a snug racing feel, even with the seat base divided into two separate areas for your thighs. There's plenty of carbon-fibre around the cabin too and everything is built and finished to the typical high standards of BMW. The switches, fabrics and surfaces feel good to touch and it's nice to see that, despite its strong sporty character, the insides are premium and well loaded too. There's a three-zone climate control, powered seats, a HUD, a Harman/Kardon sound system and a 10.25-inch touchscreen. I'm not a fan of the 12.3-inch digital instrument panel though. There's no traditional 'dial' look, and what's provided instead isn't easy to read or aesthetic in nature. The car we get in India now though has BMW's new 'Live Cockpit' setup, which uses a single panel curved display housing a 12.3-inch instrument panel and a 14.9-inch central touchscreen, and its graphics are different.
The M4 now gets BMW's curved display with a 14.9-inch touchscreen; we drove an older version.
So then, while I hate working Sundays, driving an M4 through the gorgeous European countryside really didn't feel like one. Yes, I did look at the sights as they whizzed by, and this was a Sunday like no other. The M4 is fast, and that's its main appeal, and while you can easily blast down an autobahn, it also allows you to enjoy an engaging drive through some lovely twisty country roads. If there ever was a car that signified substance over style, this is it.
Also see:
Hardcore BMW M4 CSL adds 40hp, sheds 100kg